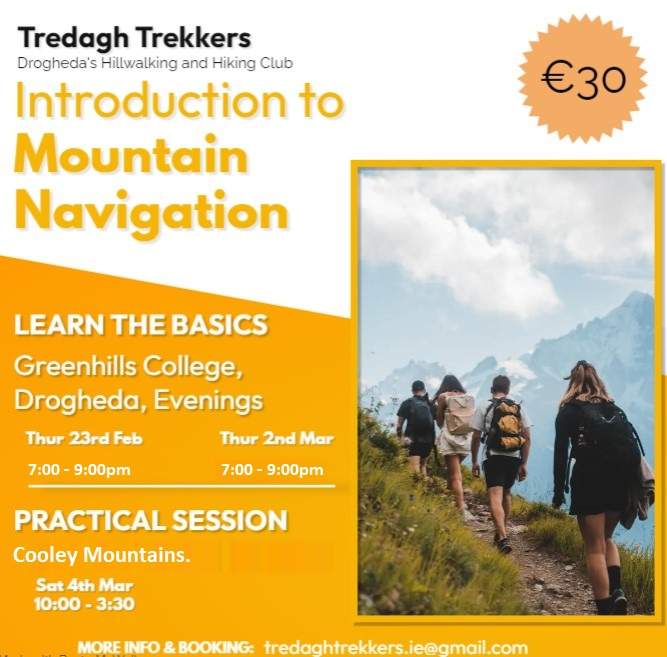 Introduction to Mountain Navigation
€30.00
The club is running an in house Mountain Navigation / Skills course which aims to cover basic map reading and mountain / navigation skills, to serve as a good introduction for the beginner or as a refresher for the more seasoned walker.
The course is being given by Oisin, with the help of other experienced club members, and will take place over 2 indoor evening sessions in Greenhills School and 1 outdoor session on The Cooleys.


The dates are as follows :
Thursday 23rd February 7.00 - 9.00pm Greenhills School.
Thursday 2nd. March 7.00 - 9.00pm do.
Saturday 4th. March 10.00am - 3.30pm Cooley Mtns.


The cost of the course is E 30.00. A 1 : 50000 O/S Map no. 29 plus comprehensive handout notes will be provided for each participant.
Course participants will need to supply their own compass. We recommend the Silva Type 4, though as this is quite expensive, the cheaper Karrimor Compass Size One from Sports Direct will suffice.


Please make payment to Tredagh Trekkers, Permanent TSB : IBAN : IE14IPBS99062200201031 BIC : IPBSIE2D


Places are limited and will be allocated on a first come basis, upon receipt of your payment.
Please be sure to quote your name on the payment advice.